Enorme Epavli set in one of the city's most thriving neighborhoods. In the heart of Hersonissos city where everything is possible. Combines the city rhythm with wellness calm, offering luxury accommodation and tasteful gastronomy.
A stylish, sustainable hotel for those who seek to combine boutique vacation in a destination which never sleeps.
A hotel which removed buffets and created carefully, tasteful a la carts using fresh and local ingredients. Breakfast, snacks and dinner, orderable to your waiter!
Two swimming pools to pass your day on a bean bag or a wooden sun lounger with comfy mattress. The great attraction is the Tan pool at the Roofsky which urges the senses to be there all the time.
The boutique elegant rooms designed to serve your needs throughout vacation.
Enorme Epavli Boutique
El. Venizelou Rd
70014 Hersonissos, Crete
Tel: +30 2810 227 000
Fax: +30 2810 227 001
welcome@enormehotels.com
DISTANCES & TRANSPORTATION
Heraklion Centre
29 km
Heraklion Airport
26 km
Hersonissos Centre
0 m
Nearest Beach
250 m
There are three different comfy rooms & suites to choose from. All room types are equipped with smart lightning automations and luxurious facilities to enjoy your accommodation Exquisite mattresses and linens, drenching rain showers, espresso maker, branded amenities for your bath and personal hygiene, extra- ordinary room service and pillow menu.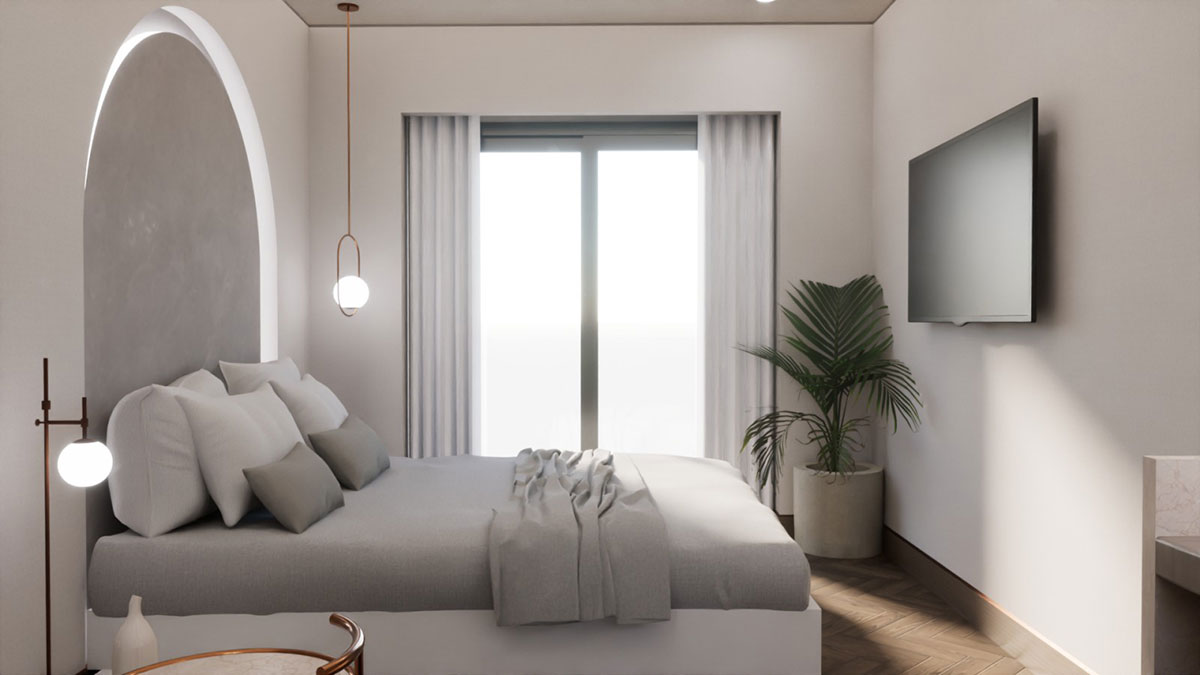 Double Room
It consists of a double bed (or two twin beds) and can accommodate up to two persons. It features en suite bathroom with a walk-in shower and a toilet. A furnished balcony or terrace is also at disposal.
Free WI-FI
Room Size: 19m2
43'' Smart TV
Nespresso® Coffee Machine
Max 2 pax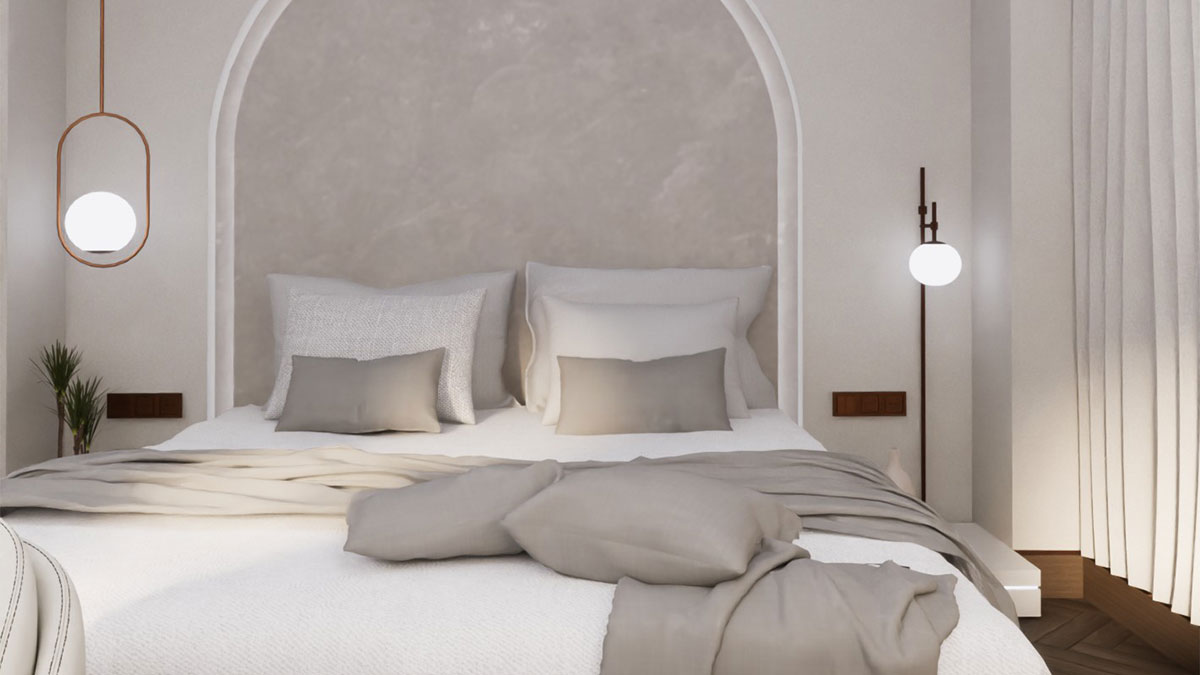 Double Atrium
It consists of a double bed (or two twin beds) and can accommodate up to two persons. It features en suite bathroom with a walk-in shower and a toilet. An internal furnished balcony or terrace is also at disposal.
Free WI-FI
Room Size: 19m2
43'' Smart TV
Nespresso® Coffee Machine
Max 2 pax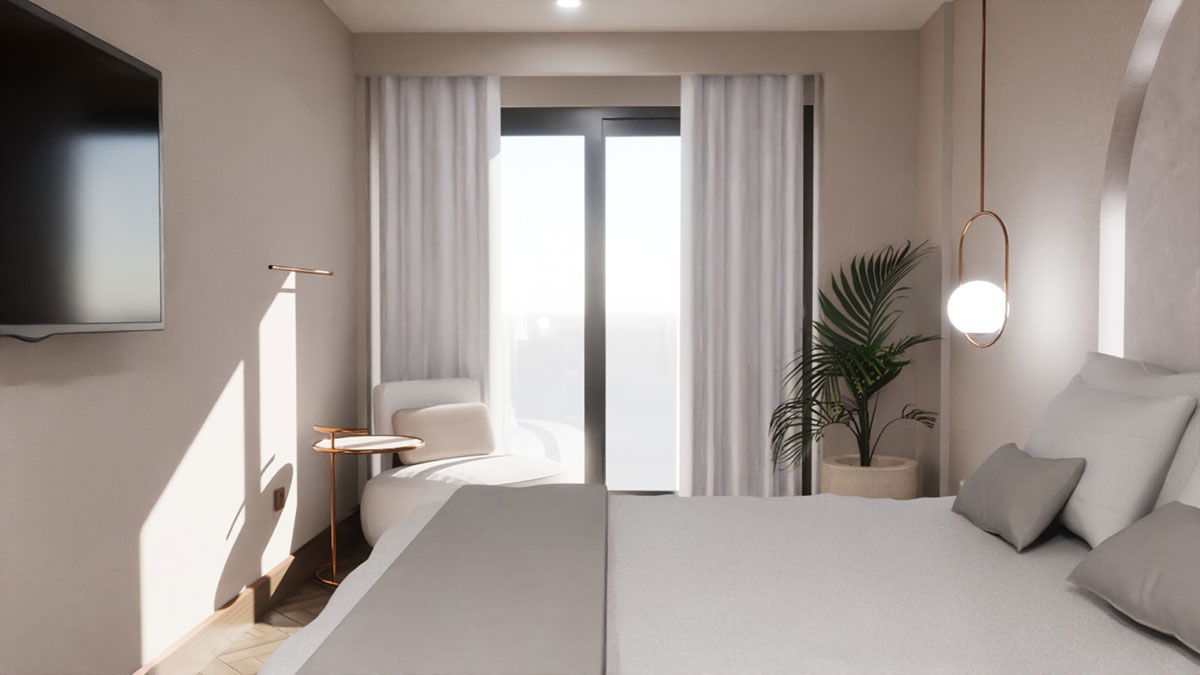 Superior Double
It consists of a double bed (or two twin beds) and one sofa bed, can accommodate up to three persons. It features en suite bathroom with a walk-in shower and a toilet. A furnished balcony or terrace is also at disposal.
Free WI-FI
Room Size: 22m2
43'' Smart TV
Nespresso® Coffee Machine
Max 3 pax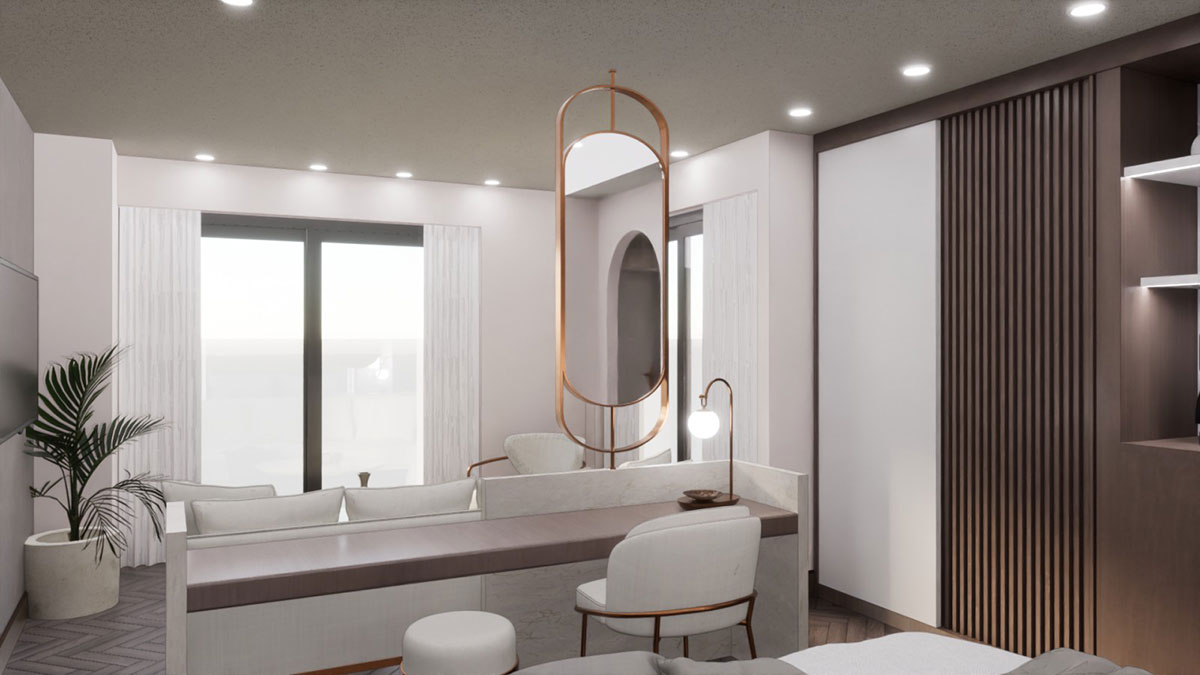 Junior Suite
It consists of a double bed (or two twin beds) and a sofa bed within a siting area and can accommodate up to three persons. It features a jacuzzi, en suite bathroom with a walk-in shower and a toilet. A furnished balcony or terrace is also at disposal.
Free WI-FI
Room Size: 32m2
43'' Smart TV
Nespresso® Coffee Machine
Max 3 pax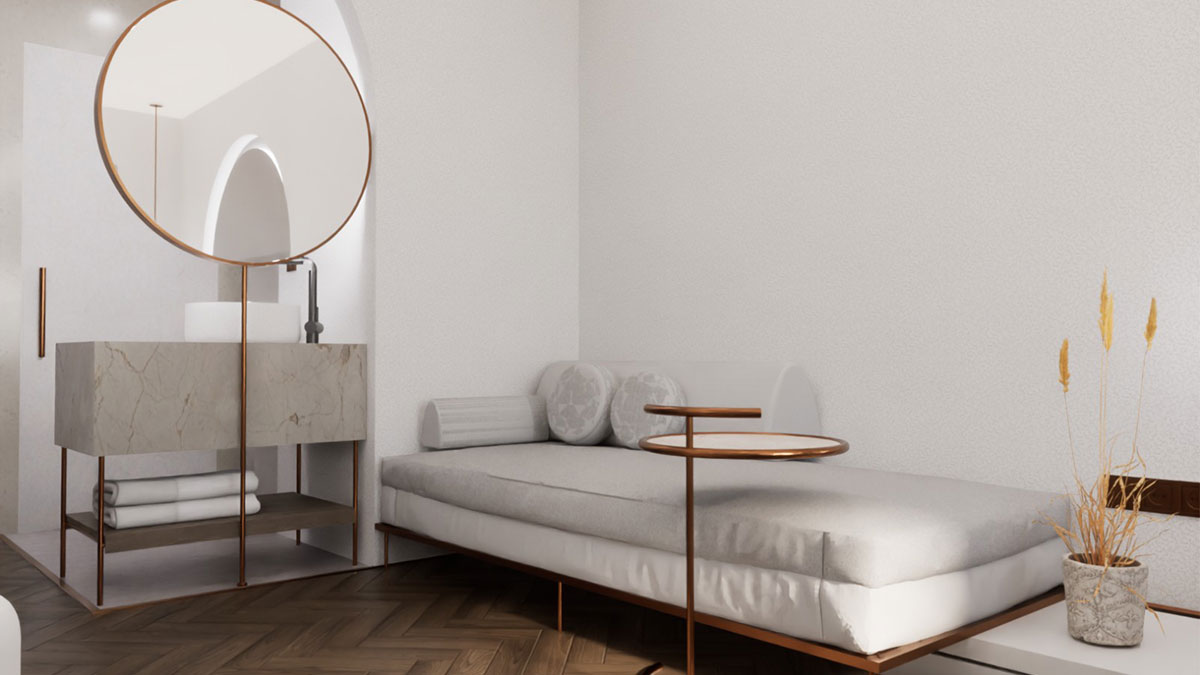 Junior Suite Atrium
It consists of a double bed (or two twin beds) and a sofa bed within a siting area and can accommodate up to three persons. It features en suite bathroom with a walk-in shower and a toilet. An internal furnished balcony or terrace is also at disposal.
Free WI-FI
Room Size: 34m2
43'' Smart TV
Nespresso® Coffee Machine
Max 3 pax
In Room Facilities
Wi-Fi in each room
Coffee & Tea Facilities (Daily refillable)
Nespresso® Machine (Daily refillable)
Bottle of Water – (Daily refillable)
Safety Deposit Box
43'' SMART TV
Branded Toiletries & Amenities
Rainfall Shower
Bathrobes & Slippers
Air Condition
Laundry Service *
Hair Dryer
Ceiling Fun
Beach Towels
Magnifying Mirror

Hotel Facilities
Reception 24 hrs
1 Outdoor Swimming Pool (Sweet water)
1 Roofsky Tan Pool
Main Restaurant
A La Cart Restaurant
2 Bars
Massage Treatments
Free Wi-Fi in all public areas
No pets allowed
12h Room Service
Gym Area

Yoga, Fitness & Wellness
Yoga and Fitness Sessions are designed for all levels, offering modifications for beginners and greater challenges for advanced. To encourage beginners, we offer introductory classes for groups or private clients. One week of regular practice is all you need to transform your life.
Daily Schedule
08:00 – 09:00 Yoga Session
10:00 – 11:00 Fitness Session
15-min Massage Complimentary
Events & Entertainment
Events are exclusively designed for the Tan pool, in or out…! Afternoon DJ sets or Jazz wet nights at the 4th floor, under the sky stars!
Jazz Wet Night – Once a week
DJ Set – Weekly randomly
* Services with extra charge.
Enorme Epavli designed with no buffets! Everything in A-La-Cart to satisfy all needs. The Main Restaurant serves breakfast and dinner, a Rooftop Pool Bar with waiter service on gazebos and sunbeds through button call, international snacks, sushi selections & fusion Asian. Our bartenders serving espressos, fizzes and signature cocktails, even though in your room balcony!
F&B Outlets
Main Restaurant
A La Cart Restaurant
Snack Bar
Roofsky Pool Bar
Lobby Bar
12 hrs Room Service
Shisha Bar
All menus are coming in respect of selection for vegetarians, vegans, gluten-free diets and guests with allergies.
The Restaurant
Breakfast
A La Cart Selection
07:00 – 07:30 Early Breakfast
07:30 – 10:30 Breakfast
10:30 – 11:00 Late Continental
Dinner
19:00 – 21:30 Mediterranean Cart
Roofsky & Lobby Bar
Snacks & Asian Creations
11.00 – 18.00 Snacks menu
12:00 – 21:30 Sushi Bar

Room Service
10:00 – 22:00 Food & Beverage Menu

Shisha Bar
11:00 – 23:00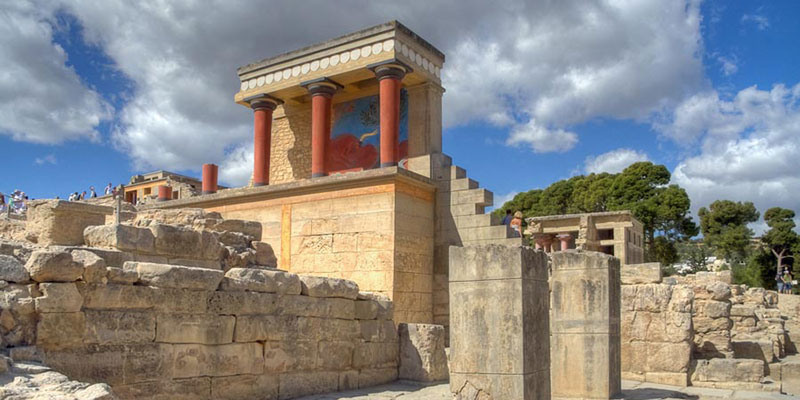 MINOAN PALACE OF KNOSSOS
Knossos is the largest Bronze Age archaeological site on Crete and is considered Europe's oldest city. The palace of Knossos was undoubtedly the ceremonial and political centre of the Minoan civilization and culture. It appears as a maze of workrooms, living spaces, and storerooms close to a central square. An approximate graphic view of some aspects of Cretan life in the Bronze Age is provided by restorations of the palace's indoor and outdoor murals, as it is also by the decorative motifs of the pottery and the insignia on the seals and sealings.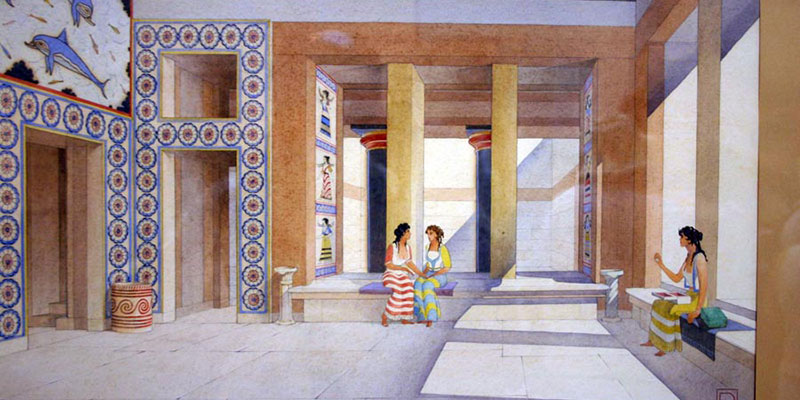 HERAKLION ARCHAEOLOGICAL MUSEUM
The Heraklion Archaeological Museum is one of the largest and most important museums in Greece, and among the most important museums in Europe. It houses representative artefacts from all the periods of Cretan prehistory and history, covering a chronological span of over 5,500 years from the Neolithic period to Roman times. The singularly important Minoan collection contains unique examples of Minoan art, many of them true masterpieces.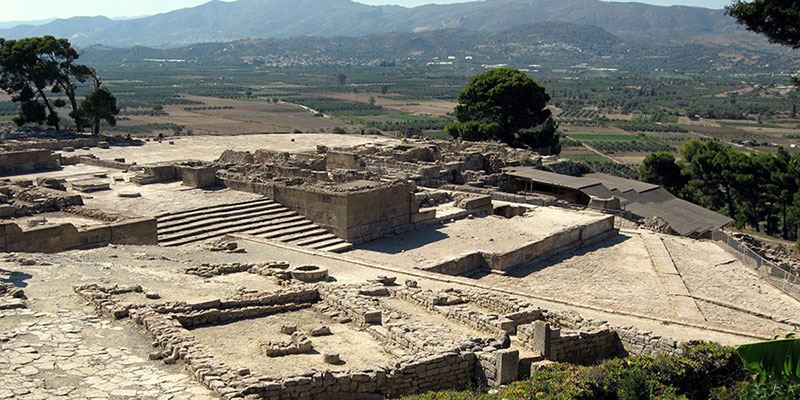 MINOAN PALACE OF PHAISTOS
Phaistos was one of the most important centers of Minoan civilization and the greatest rich and powerful city in southern Crete. It is built on a hill on the western edge of the longest and richest plain of Messara. Archeology Phaistos is the second most important city after Minoan Knossos.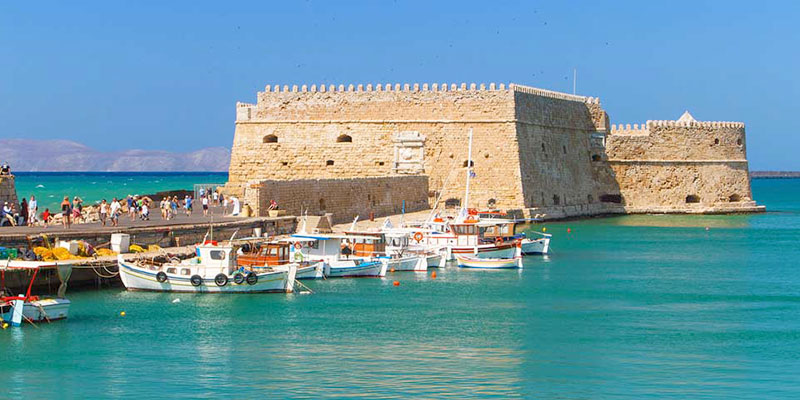 KOULES FORTRESS
The "Castello a Mare" is a fortress located at the entrance of the old port of Heraklion, Crete, Greece. It was built by the Republic of Venice in the early 16th century, and is still in good condition today.
In 1462, the Venetian Senate approved a programme to improve the fortifications of Candia (Heraklion). Eventually, the Byzantine tower was demolished in 1523, and the Castello a Mare began to be built instead. Old ships were filled with stone, and were sunk to form a breakwater and increase the area of the platform on which the fortress was built. The fortress was completed in 1540. In 1630, the fort was armed with 18 cannons on the ground floor, and 25 cannons on the pathway leading to the roof.
During the 21-year long Siege of Candia (Heraklion), Ottoman batteries easily neutralized the fort's firepower. The Ottomans eventually took the fort in 1669, after the Venetians surrendered the entire city. They did not make any major alterations to the fort, except for the additions of some battlements and embrasures. They built a small fort known as Little Koules on the landward side, but this was demolished in 1936 while the city was being modernized.
The fortress has been restored, and it is now open to the public. Art exhibitions and cultural activities are occasionally held at the fort.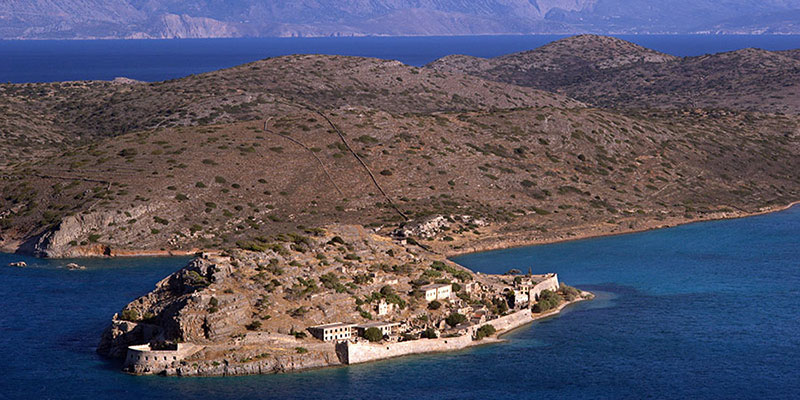 SPINALONGA
Spinalonga is an arid and barren rocky islet with an area of 8.5 hectares lying at the mouth of the natural port of Elounda in the Lasithi prefecture of Crete. Due to its strategic location, it was fortified and served a variety of roles and purposes over the centuries. Here, on an island where lepers from Crete and the rest of Greece had been kept in isolation until 1957, a story about love and pain, separation and fear was born.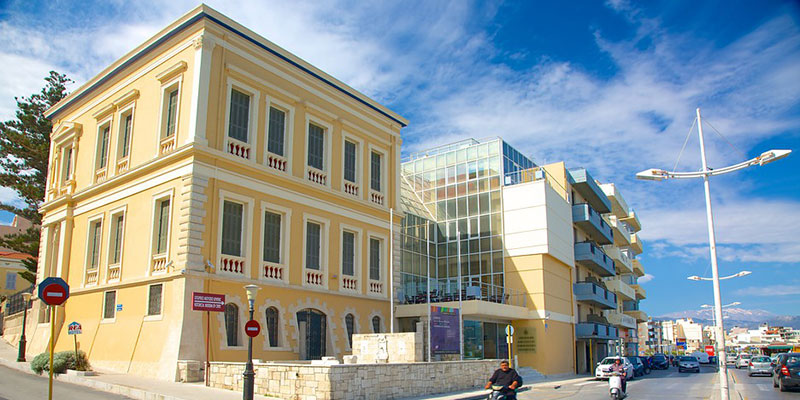 HISTORICAL MUSEUM OF CRETE
Founded in 1953, located on the coastal avenue of Heraklion, the Historical Museum of Crete is housed in a neoclassic building of incomparable architectural merit and value and reveals the seventeen centuries of local history and culture that depict a wide era from the first Christian centuries till our present times. Within the 22 halls of the establishments one can access, amongst others, the Byzantine art and artefacts, the periods of the Venetian and the Ottoman rule, the period of the union of the island with the rest of Greece, the World War II collection along with remainings from the Battle of Crete and the local Resistance. Through an up-to-date visual material and multimedia, all guests can also inspect the agricultural folk culture and habits that characterized a very special traditional way of living.
One more attractive collection is the one of the well-known Cretan author Nikos Kazantzakis, which presents personal objects and valuable manuscripts during his life worldwide.
Last but not least, the museum hosts 2 of the finest paintings of the world famous artist "El Greco" (Dominikos Theotokopoulos), that have remained in Crete: "The Baptism of Crist" ( 1567) and "The view of Mount Sinai" (1570), which are unique samples of his exquisite artistic talent of painting, influenced both by the Italian Renaissance and the Byzantine tradition.
Opening hours: 09:00 – 17:00 Monday – Saturday (Sunday: closed)
Address : Sofokli Venizelou 27 str., 71202, Heraklion Crete
Tel.: +30 2810283219
e-mail: info@historical-museum.gr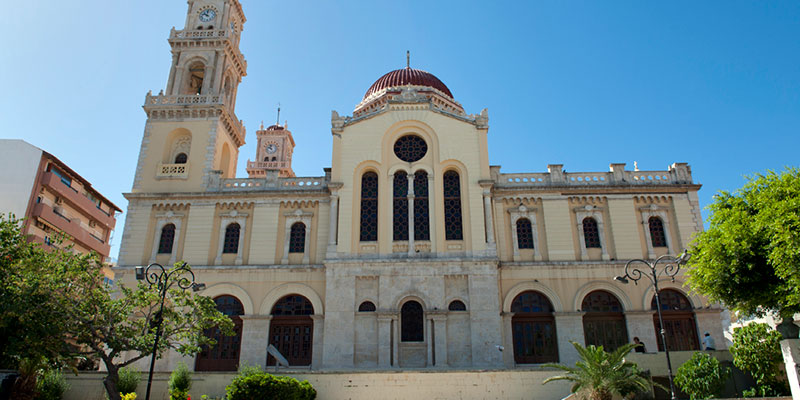 ST. MINAS (AGIOS MINAS)
St. Minas is the patron Saint of Heraklion. The day of his celebration (November 11) is a holiday for the city. Many legends surround his name, narrating stories how he protected the city in many occasions, like when the Turks attacked and even during the German bombardments in 1941. The bomb exhibited right next to the Cathedral of St. Minas, by the staircase that leads to the plateau of St. Catherine, stands witness of the Saint's protection as it fell at this point in 1941 but never exploded. According to another legend, a monk had a vision of the Saint who indicated to him where his temple should be built.
The famous Cretan writer Kazantzakis often refers to him in his book "Captain Michalis" (UK title "Freedom and Death"): "On midnight, when the town is in deep sleep, St-Minas descends from his icon and sets off for the quays, crossing through the neighborhoods of the Greeks; when a door he finds open, he locks it; when a christian he finds ill and sees light on his window, he stands, pleading to God to heal him".
The Cathedral is one of the largest in Greece and was built in the mid-19th century. The construction was interrupted by the 1866 Cretan revolution and continued in 1883. The Cathedral was finally completed in 1895. To its left stands the small temple of St.Minas.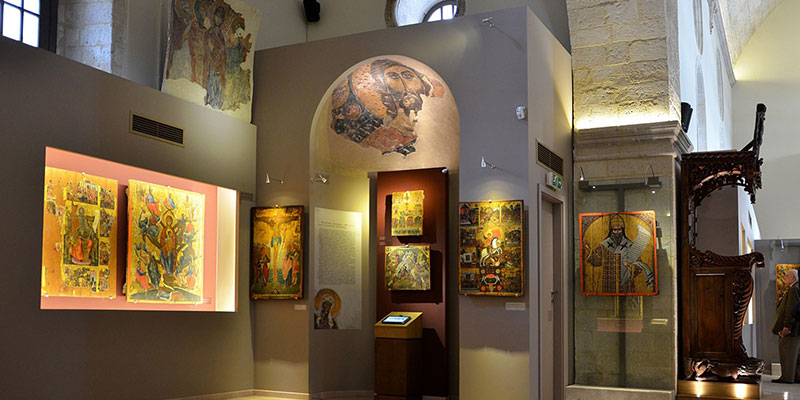 MUSEUM OF CHRISTIAN ART/ ST. CATHERINE OF SINAI
St. Catherine, church of the Sinaite monastery, operates as the Museum of Byzantine Icons and Christian/Religious Arts.
Situated at the north-east side of the Cathedral of St. Minas, this cruciform basilica was established during the 2nd Byzantine period and operated from the 15th century onwards as a School, specializing in grammar, logic, rhetoric, mathematics, art and music. During the Ottoman rule and after 1669, it was converted into a mosque, known under the name of Zulficar Ali Pasha and operated as such till 1922, when the last Muslims departed from Heraklion, due to exchange of population between Greece and Turkey.
The establishment brings intensely the air of Venetian Architecture as it was deeply influenced during the relevant Venetian occupation, as the temple was built since the 16th century.
The main theme of the present exhibition is the ecclesiastic art that has been developed in Crete until from the 15th till the 19th century. Among the most important exhibits are icons by two important representatives of the famous "Cretan School" of painting, Angelos Akotantos (15th c.) and Michael Damaskinos (16th c.). One of the most well-known artists and painters of the world, El Greco, derived from this artistic environment. The wide collection includes specimens and examples of murals, stone sculpture, wood carving, post-Byzantine metalwork and miniature artifacts likewise. In addition a further compilation of coins, devotional objects, holly vestments, embroidery, manuscripts and books of the Byzantine and post-Byzantine Era are very well preserved and presented at various parts of the Museum.
Opening Hours: 09:30-19:00
Address : St, Catherine's square, 71201, Heraklion Crete
Tel.: +30 2810336316
e-mail: iak.mouseio@gmail.com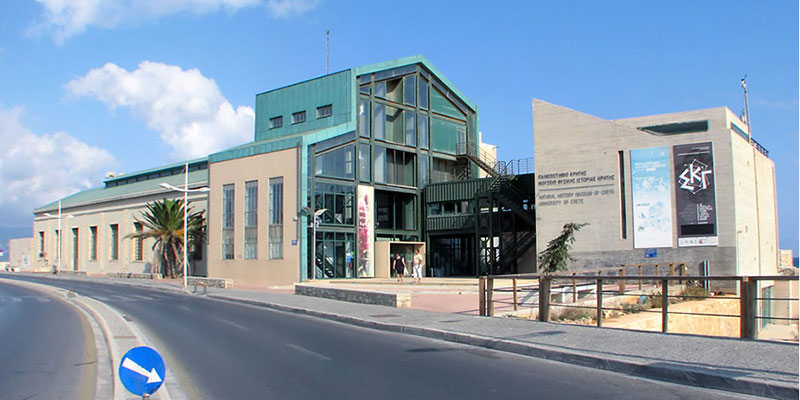 NATURAL HISTORY MUSEUM OF CRETE
Natural History Museum of Crete has been functioning and operates under the framework of the University of Crete, covering all the activities of a comprehensive, modern museum. Maintains and develops collections, conduct research into the natural environment, contribute to teaching at all levels of education and shows the visitors the specificity of the Crete and Mediterranean.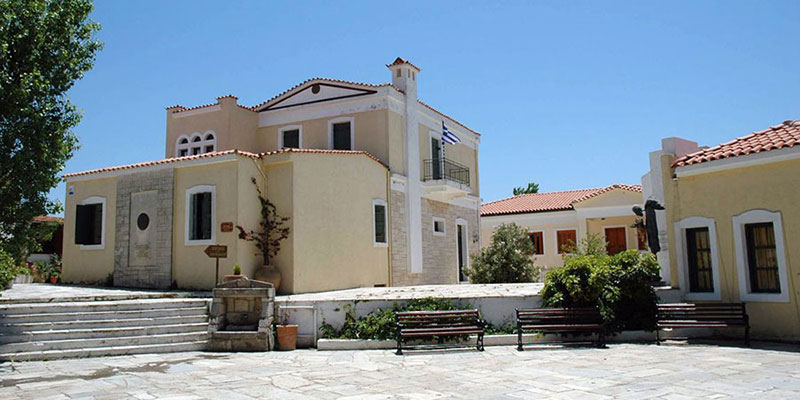 NIKOS KAZANTZAKIS MUSEUM
The Nikos Kazantzakis Museum pays tribute to the important intellectual, author, thinker, philosopher, politician and traveller Nikos Kazantzakis. The Museum is made up of a cluster of buildings in the central square of the historical village of Varvari, now known as Myrtia. The Museum holds manuscripts and notes by the author; samples of his correspondence with major thinkers, politicians and authors of his time; first editions of his works in Greek and other languages; rare photographic material etc.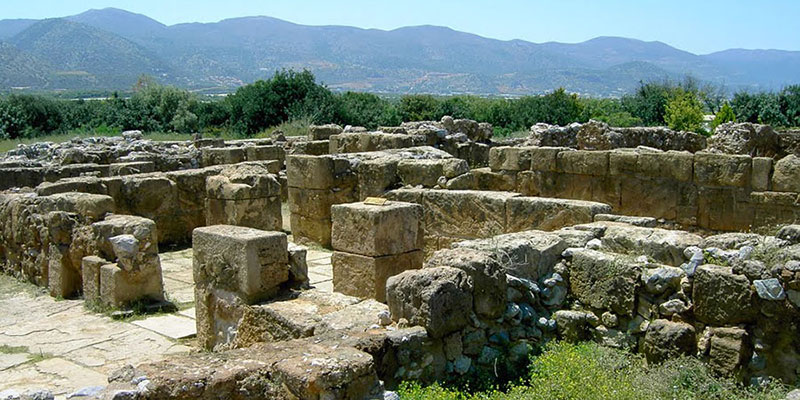 MINOAN PALACE OF MALIA
Malia Crete is one of the ancient Minoan palaces which testify to the magnificent civilization which grew up on the island. The site is situated about two miles (3 km) to the east of the modern resort of Malia. It has been excavated mainly by the French School of Archaeology since the early 1920's. Because the site was abandoned at the end of the 2nd millennium BC and no one else every used it, there are no other building or other remains to cause confusion.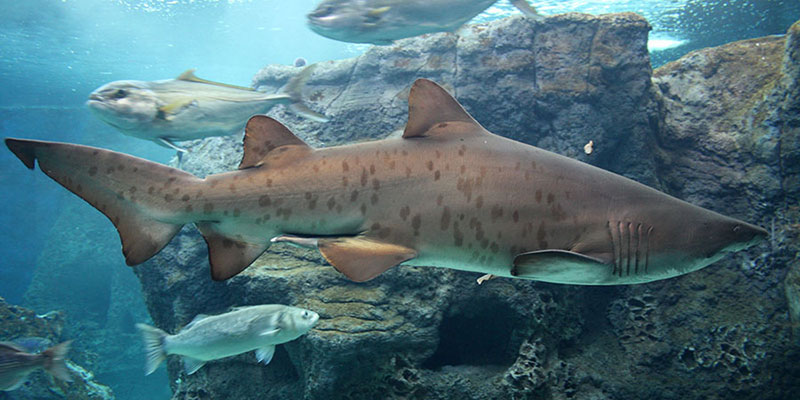 CRETAQUARIUM - THALASSOKOSMOS
This is where your experience exploring the Mediterranean sea world begins. Come face to face with hundreds of species and thousands of living organisms. Be fascinated by their behaviour as they reveal the wide variety of shapes, colors, habits and needs of their own world. Learn about them and reflect on what our common future may be.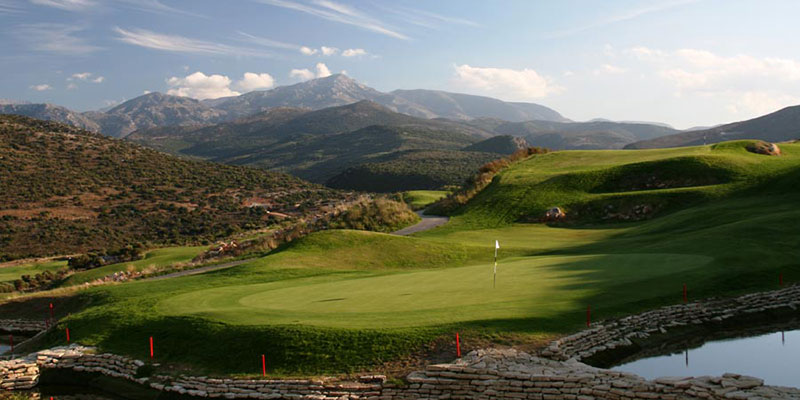 CRETE GOLF CLUB
The Crete Golf Club is a championship golf course - the only 18-hole golf course on the island of Crete and one of the most impressive golf courses of the Mediterranean, which holds a unique challenge and a pleasant experience for both golf players and visitors all year round. The golf course has been built to international PGA standards by architect Bob Hunt, a member of the English PGA. Each hole has been constructed separately and in harmony with the surrounding landscape, providing panoramic views of both the mountains of Crete and the Aegean Sea.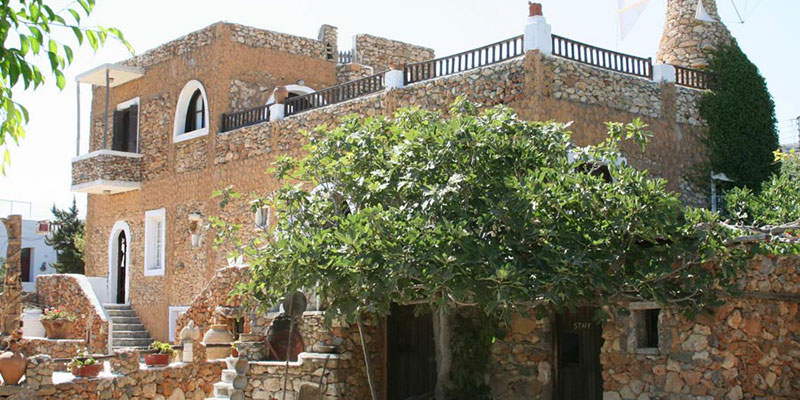 CRETAN OPEN-AIR MUSEUM "LYCHNOSTATIS"
The Cretan Open-air Museum "LYCHNOSTATIS" aims to promote the understanding and awareness of the Cretan folk cultural heritage. Its collections relate to the following themes: Cretan Folk Tradition and Ethnology, Cretan Nature and Environment, Cretan Folk Culture. Located in one of the principal tourist areas in Crete, the museum is, apart from a valuable tourist asset, an exemplary self - motivated conduct on tradition, culture and environment of the island.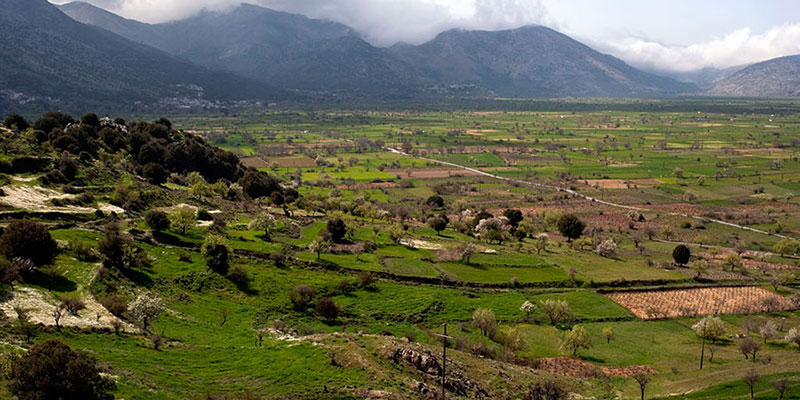 LASSITHI PLATEAU
Lassithi Plateau is a beautiful valley surrounded by mountains and is known for its picturesque windmills. During 50s and 60s the plateau was one of the first wind farms in Europe. There were thousands of windmills that pumped groundwater, to which irrigated their crops by inhabitants. The 18 villages of the plateau is built at the foot of the surrounding mountains, leaving the plain free for cultivation, and connected by a circular road of length 23km.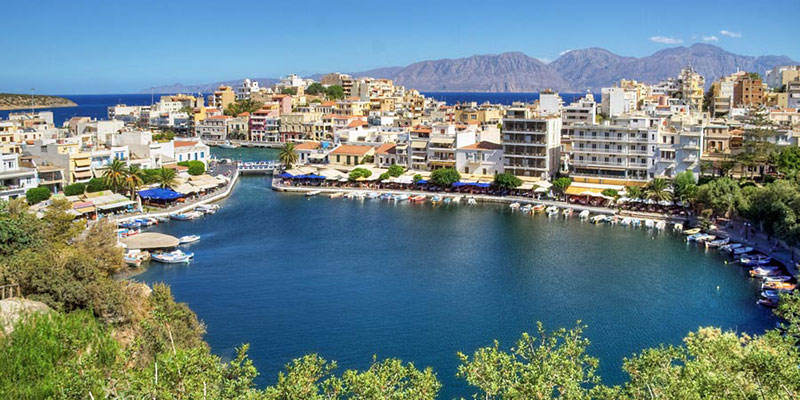 AGIOS NIKOLAOS
Agios Nikolaos, with over forty years of experience in tourism, is a international and cosmopolitan resort that welcomes thousands of visitors. The lake is the most important attraction of the city. The legends say that Athena and Artemis bathed in its waters. Joined to the sea by a narrow channel, while the natural surroundings of red rock and trees attracts the visitors.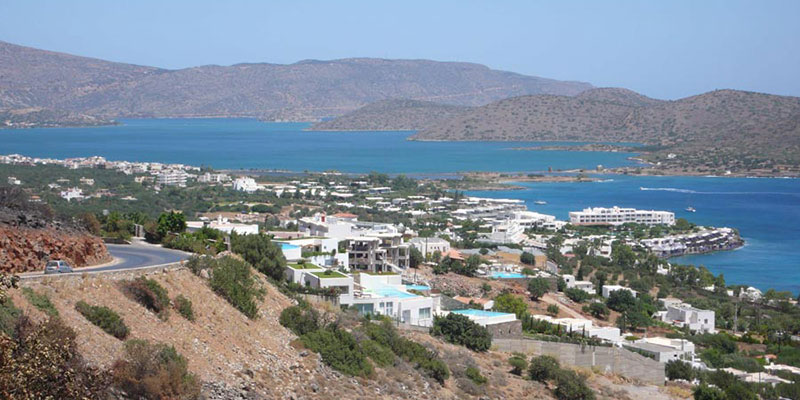 ELOUNDA
Worldwide famous tourist resort north of Agios Nikolaos, having an indented coastline, shaded beaches, crystal clear sea, peaceful and beautiful environment. The road into Elounda from Agios Nikolaos is approximately 10 km in length and follows the shore as it climbs to the top of a small mountain. The view from the top is incomparable; on a clear day it is possible to see the whole of Mirabello Bay and all the way to the eastern tip of Crete.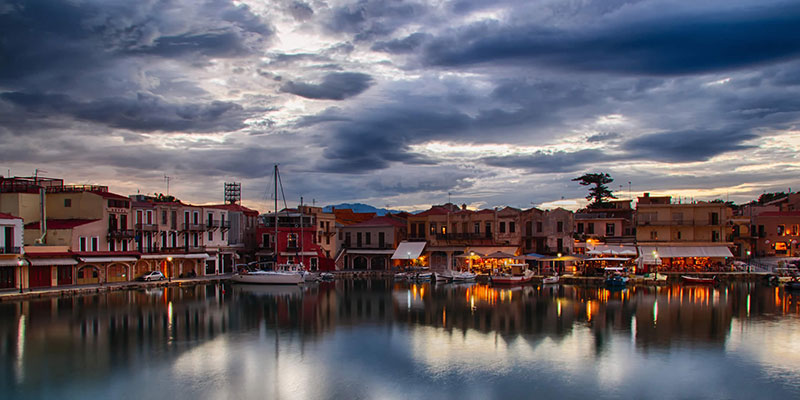 RETHYMNO
The city of Rethymnon is a place blessed with beauty, embraced by breathtaking mountains and the deep blue of the Mediterranean, decorated with renaissance colors and inhabited by people known for their hospitality, honoring their ancestors and traditions. It is a place one falls in love at first sight and visitors are able to feel the positive vibes of the city from the very first moment, making them feel at home.
We at Enorme Hotels & Villas embrace our responsibility for sustainability and strongly believe that the communities in which our hotels lie are the cornerstone of local cultural prosperity, economic growth and upgrading of the Mediterranean diet. We are committed to integrating leading environmental and social practices as well as sustainability principles into our business strategy. Through collaboration with our suppliers, owners, business partners, and guests, we will actively work to reduce the environmental and negative social impact of our business activities related to food and beverage sourcing, production, consumption and disposal and to continually improve and innovate.
Environmental Sustainability
ISO 14001 Certified

Food & Beverage Sustainability Policy
ISO 22000 Certified